Fat City History by Dan Ellis
     The first phase of Lakeside Shopping Center became established in 1958-59  – Bob Spraque, architect.  It was soon to become the anchor for the birthplace of numerous high-class lounges and happy-hour bars that would eventually be built. These were followed by apartment complexes that catered primarily to singles who greatly populated the area and laid the groundwork for a dynamic happening — Fat City.
     I had already been living in the area at the Norgate Apartment complex on Division Street just north of Veterans Blvd.  On Veterans at that time was the Forest Steak House, off Hesmer; and the original Toddle House, off Division.  The first bar in the area was the Back Door on Division across from the Norgate Apartments.
     18th Street ran from Division to Severn as it does now, but it was a shell road that was pocked with deep holes to avoid.  On the way was the Act IV, just off 18th, on Hesmer Ave, and Guzzo's Restaurant just off 18th on N. Arnoult Rd.
     Then arriving on the scene was the small L-Shopping Center that housed Que Pasa circa 1970.
     My first visits to Que Pasa were in 1971,with the bidding by my brother Eddie Werner, who was then a manager with Louisiana Gas.  He held forth at Que Pasa for a number of years as he would gather his work associates and friends –  and family –  to join him there.  I credit him for putting Que Pasa on the map.  His friends started bringing friends and I started inviting my employees and the result was a very happy "happy hour" that started at about 3 p.m. and continued into the late hours.  My wife and I were living at the Norgate apartments which were just around the corner on Division Street near Veterans Hwy.
     Previously, Eddie had frequented a bar named the Gazebo in Lakeview where Leanne, a pretty bar maid worked.  Their comradery led to Eddie calling her his "little sister."  Therefore, when she moved to Que Pasa, her "Big Brudder" Eddie followed suit.  The two bar maids were Leanne and Maria, (a nurse who did part-time Bar pouring.)
     One of Eddie's cohorts was "Sweet" Willy, who was given that name by Eddie, himself.
     Another story:  — at a very crowded Que Pasa, Billy Williams fell back on the floor seeming to have passed out.  Eddie pushed everyone aside and once giving him room, Sweet Willie jumped up and yelled — "Que Pasa!"
Eddie remarked, "Hey, Boy, I thought I had to give you Mouth-to-Mouth!"
     Several years later, Roy Anselmo opened Don Quixote's in 1971, which was a real upscale lounge on 18th Street catering to the same growing group of youthful business and office employees.  The first mishap took place there.  A dark-haired, fair-skinned beauty was the bartender and was shot in her face, having been killed by her ex-boyfriend.  What a loss of beauty and magnificent loveliness.  Read Sweet Willie's first hand account as a witness.
     I will always remember my first trip to Don Quixote. My office was downtown New Orleans and I had met a business acquaintance from Dallas in the French Quarters where we had a few drinks.  I urged him to go with me to see what was happening in the Metairie area that would eventually be called Fat City.  Instead of taking him to Que Pasa where there was sure to be at least a small group, I brought him to the new up-scale Don Quixote.  It was there that I had my first Martini ever.  Having a few drinks in the French Quarter followed by three and a half Tanqueray Martinis, roused my curiosity about the Don Quixote metal statue near the dance floor.  My Dallas associate had already left.  The beautiful barmaid begged me to leave the tall spear in Don Quixote's rigid hand.  Each time I jerked it up, the spear head jabbed the ceiling.  Finally, Roy Anselmo came down from his second floor loft, and insisted that I leave his place or quit messing with the spear —  or he would call a Deputy Sheriff.
     I said, "Go ahead and call them! —  I'll call my brothers!"
     Not having two nickles, not even a dime, I asked Roy, and he gave me two nickles to make my call.  I then told Roy, that he better call the deputies, because we were going to wipe the place up if he insisted on putting me out.
     My brothers Ed and Augie Werner, each 6-inches taller than me, grabbed each of my elbows and assisted me out as I swung my heels behind.  Never again did I ever call them for help.  Of course, after that, Roy and I became good friends, at least I became one of his favorite customers.
     About a year later, Roy Anzelmo and Joe Peters opened Sancho Panza (1972) just west of Don Quixote on 18th Street.
     It was about that time when Roy came up with the idea of naming the area after a Snowball Stand that he had seen on Bonnable Boulevard.  The sign read: Fat City Snoballs.
     In 1973, a franchise group from Dallas opened The Place Across The Street, which became the first Las Vegas style night club in New Orleans.  Great stage bands were brought in from all over the United States.  The talent at The Place was so wonderful that every day of every week, crowds started lining up to get in the front door.  The Place opened on Severn Ave and Fat City Blvd. creating major competition for about two years before closing down.
     Sancho Panza followed suit with great bands with great sounds.  The first band played from 9 until 1:a.m., followed by a second band that played from 1 until 5:a.m.  Of course, the VIP's were able to get in the back door without paying the required cover charge admission.
     Unofficial "Fat City" became officially named FAT CITY by the Jefferson Parish elected officials who even changed the name of 18th Street to Fat City Boulevard.
     I give credit to Joe Peter's operation of Que Pasa from the late 60s and into the 70s as having provided the impetus to Fat City, however, credit must also be given to The Village which opened in an undeveloped square north of the first phase of the Lakeside Shopping Center in 1972.
     The Village was surrounded by a shell parking lot having access from Causeway Boulevard taking a road off from the fire station that was there.  The Village became very successful for a few years as a choicey "Happy Hour" bar.  No longer existing, it was a square building with windows on all sides centered by a large circular bar as a take-off from the Old Absinthe House in the Quarters.  Everyday of the week, the bar was packed 3 to 4 deep with great revelry on the part of its frequenters —  each, vying for a front spot or maneuvering to order drinks from the three, sometimes four, bartenders on duty.  The bar crowd consisted of youthful and mature sales and business men and women who were still in office dress wearing coats and ties and nice dress wear.  One of the gregarious bartenders was known as "Moon Mullins" who became one of the early "Mayors" of Fat City.  The Village lasted for about 3 years before succumbing to accelerated competitions by other newer lounges.
     The Village was located near the Imperial Palace, the first Hotel/Motel in the area and was located on Causeway Blvd.  It had a second floor lounge which also attracted an after-hours group in addition to the hotel guests.
     It was in this time frame that Bobby Magee's Lounge and Restaurant opened on the corner of 18th and N. Arnoult Road.  It soon had to change its name due to Franchise Law –  to Molly Maquire's.
     Bill Blackwood held forth there as Major Domo Bar Tender General for many years and through the changing of management and owners and many beautiful waitresses.  It was at Molly Maquire's where many of the political officials started gathering for lunch and partaking in after dinner drinks.  It was Chehardy's for a while and after Fat City toned down, this became Salvatore's.
     While Fat City was on the rise, more and more apartment complexes opened to appeal to the young single crowd.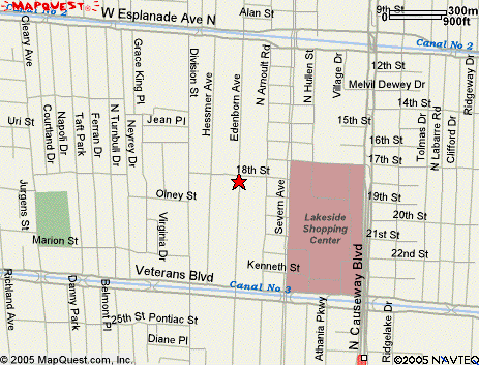 During the 1980s, the Causeway Boulevard business district also grew as it harbored the adjoining Fat City entertainment area.
     The first of better dining facilities was
Drago's
at N. Arnoult between 18th and 17th streets.  
Drago's
had moved from their former Lakeview location on Harrison Ave and became the first high class restaurant in Fat City. They went through several renovations to become what they are today.